Hi All,
Spent half an hour looking for info on this earlier today and gave up. Wanting to ensure the cold start warm air function was disabled (not needed as we never see below 5 degrees Celsius here in Adelaide Australia).
Pulled it all apart and tested the bit that does the work (wax filled catridge?) by dropping into boiled water and it was still good, so I've put it aside in case I want to reverse this.
Looked at the spring loaded plunger which pivots the flap from warm air to cold air, looked around the shed and decided PVC wiring conduit looked about right. Measured up the plunger fully compressed (full cold air) and cut a piece of conduit to suit. Slipped it in where the wax cartridge sits and checked, still needed a little more length so slipped in a matching sized washer.
All good, warm air port is fully closed. Replaced all parts (after replacing air filter, spray cleaning the MAF sensor, cleaning the throttle body and cleaning the flame trap).
Photos of the mod (hoping these work):
Close shot showing pvc pipe and washer in place, foreground is wax catridge and pvc pipe.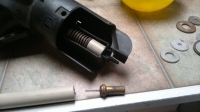 Click to view full size!
Long shot for perspective, cold air side facing camera.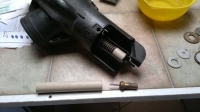 Click to view full size!
Photo down the cold air inlet showing flap open.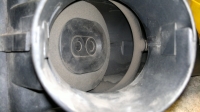 Click to view full size!
Photo down the warm air intake side showing closed flap.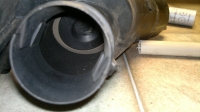 Click to view full size!
Hope this is useful to someone.
Cheers,