I'm thinking to buy this intake manifold for my b21t project.
Has anyone tried this kind of manifold here?
In Finland, where i live, one guy uses Kl Racings cheaper options in 750+hp 740 drag car, but at least with 40psi of boost (2.8bar) it develops cracks etc etc.
This "extreme" manifold is cast aluminum, and i think it does not crack so easily compared to cheaper welded one.
This is the manifold, i know it's expensive, but hobbyes are expensive! I have already spend a 2000€ from my engine containing boring&honing, new pistons, new h-profiles, ported 530 with 46/38 valves (flows about 200/170cfm at 28"), double springs, 280 *0.050" / 12mm camshaft and of course new bearings and gasgets.
https://shop.klracing.se/sv/artiklar...mm-spjall.html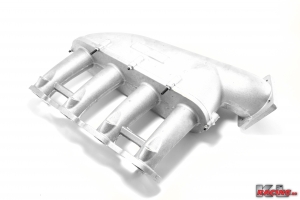 Rest of the engine combination contains Holset hx40, tubular exhaust manifold, do88 intercooler (not the crappy China cooler) and Microsquirt with wasted spark ignition.
My goal is to make at least 400hp with minimum amount of boost. Engines useful powerband is 3500-7200rpm. In this type of engine it's had to has at least 170hp in NA form, which i think is realistic with this kind of head flow and camshaft, but it needs good intake and exhaust manifolds. Engines static cr is safe 8.5:1 (i do not care about idle or low end torque in this application. This car, 244, is a summer toy, not a daily driver.
What are your's opinion at this intake???